QL200 PIC DEVELOPMENT & PROGRAMMING BOARD
QL200 is an integrated demo system for study and development of PIC Microcontroller, which is provided with four functions of experimental instrument, programmer, simulation interface and ISCP download cable. Enclosed with control CPU and combined with programming software which has independent intellectual property rights, the system is able to support over 90 percent of the experiments and development practices of PIC Microcontroller. To easily study and develop all series of PIC Microcontrollers, only a set of QL200 demo system and a computer are needed. Based on programming functions, abundant on-board hardware resources, flexible expansion, free resource distribution, and ICSP download function for customer target board, QL200 can not only satisfy the demands of a beginner in Microcontroller study, but also meet the requirements of engineers in development of Microcontroller. In addition to a study & experimental board, QL200 is also a demo board of Microcontroller integrated with multiple resources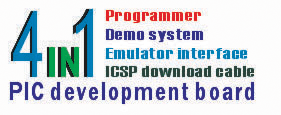 Abundant on-board resources: LED, digital tube, key-press, keyboard matrix, character LCD, graphic LCD, A/D converter, D/A converter, SPI & IIC communication, USART serial communication, DS18B20 digital temperature measurement, DS1302 clock, infrared remote control encoder, voice program and etc.
Full combination of PIC chips available for programming supporting and experiment development: on-board chip socket for PIC Microcontroller of 8PIN, 14PIN, 18PIN, 20PIN, 28PIN, and 40PIN, on-board PIC10 series, PIC16F57 chip socket, jumper for selection of various oscillation modes, auto-replacement of crystal oscillation of different frequency.
Open modular design: All modules can be on/off controlled by DIP switch. Each module is designed to connect to I/O port of Microcontroller. Connection of module with any port of Microcontroller is conveniently achieved through dupont thread. Connection to preset port is available by using DIP switch without dupont thread. All I/O ports are open externally with output socket. Expansion is easily accomplished.
Perfect examples: Each module is equipped with at least one detailed example from easy ones to complicated ones. Beginners are enabled to master all types of programming step by step.
Powerful on-board programming system: Programming over 90 percent of PIC Microcontrollers. Enclosed with ICSP download cable. Direct ICSP programming for Microcontroller of external target board.
On-board simulation debugging interface: direct connection to ICD1/ICD2/MCD1/MCD2 in circuit debugger.

Powerful programming control software:
Programming control software has entire independent intellectual property rights and covers all operating functions of programmer, with the following characteristics:
1、Compatible for operating systems including Windows 98, Windows 2000/NT, Windows XP and Windows 2003;
2、Programming interface in English and Chinese, on-line help system, convenient for user operation;
3、Programming counting function of software;
4、Serial number auto-increment function;
5、Voice indication during programming;
6、Auto-inspection of programming hardware, auto-inspection of software and setup of programming hardware during start-up, operation without manual setup;
7、Monitoring of programming data; Based on check summing, available to find immediately if programming data is changed or not. Formula of checksum is subject to definition of Microchip;
8、Read the content in chip programming area easily;
9、Program supports *.HEX or *.BIN files;
10、Fill function of buffer;
11、Auto-protection of calibration value of chip clock against erasion;
12、Directly program the BIN files obtained from decoding of Microcontroller without making any setup.
Write Review
Your Name:
Your Review:
Note:

HTML is not translated!
Rating:
Bad
Good
Enter the code in the box below:
There are no additional images for this product.